Mortgage rates rose this week following a better-than-expected jobs report and hints from Federal Reserve officials that a rate hike could happen at the next Federal Open Market Committee meeting.
Job market surges
The U.S. economy added 271,000 jobs in October, according to the Bureau of Labor Statistics. Additionally, the unemployment rate fell to a more than 7-year low of 5%. Since the employment situation report was released Nov. 6, government bond yields have been on the rise. The 10-year Treasury yield has gained about 10 basis points since the data made headlines. Mortgage rates usually trail the direction of the 10-year yield.
A look at this week's rates
The benchmark 30-year fixed-rate mortgage rose to 4.11% from 3.98%, according to Bankrate's Nov. 11 survey of large lenders. A year ago, it was 4.13%. Four weeks ago, the rate was 3.93%. The mortgages in this week's survey had an average total of 0.25 discount and origination points. Over the past 52 weeks, the 30-year fixed has averaged 3.98%. This week's rate is 0.13 percentage points higher than the 52-week average.
The benchmark 15-year fixed-rate mortgage rose to 3.35% from 3.23%.
The benchmark 30-year fixed-rate jumbo mortgage rose to 3.99% from 3.87%.
The benchmark 5/1 adjustable-rate mortgage rose to 3.39% from 3.28%.
Weekly national mortgage survey
Results of Bankrate.com's Nov. 11, 2015, weekly national survey of large lenders and the effect on monthly payments for a $165,000 loan: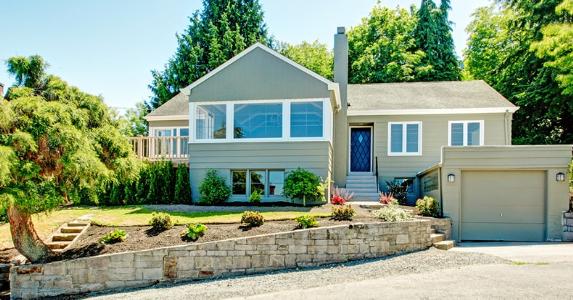 Slight dip in housing sentiment
Consumer attitudes about the housing market were slightly downbeat in October, according to Fannie Mae's Home Purchase Sentiment Index. The share of respondents who think now is a good time to buy or sell a home fell 2 percentage points and 6 percentage points, respectively.
The total number of completed foreclosures fell from a September 2010 peak of 117,438 to 55,000 in September 2015 -- a 52.8% drop -- according to data released Tuesday from CoreLogic. Foreclosure inventory fell 24.3% from September 2014 to September 2015.
Mortgage applications decreased 1.3% last week compared with the previous week, according to data from the Mortgage Bankers Association's weekly survey. The unadjusted purchase index fell 3% but was 18% higher than the same week last year.
Are rates headed higher?
The average 30-year fixed rate has increased 23 basis points in just 2 weeks, but don't expect rates to move much higher than these levels anytime soon, says Jim Sahnger, mortgage loan originator at Schaffer Mortgage in Palm Beach Gardens, Florida.
"There's still a lot of chatter about what the Federal Reserve's going to do, but I think if you still look at the underlying economic fundamentals, I think we're still prime to remain predominately range-bound," he says.
Even if the Fed makes a move next month, rates will likely stay near record lows, says Brett Sinnott, vice president of capital markets at CMG Financial in San Ramon, California.
"Having an increase in December isn't going to kill your deal necessarily," he says.
However, existing homeowners who desire better mortgage terms should act fast, he adds. "If you're looking to refinance, I definitely suggest getting that started now."
by Crissinda Ponder, Bankrate.com